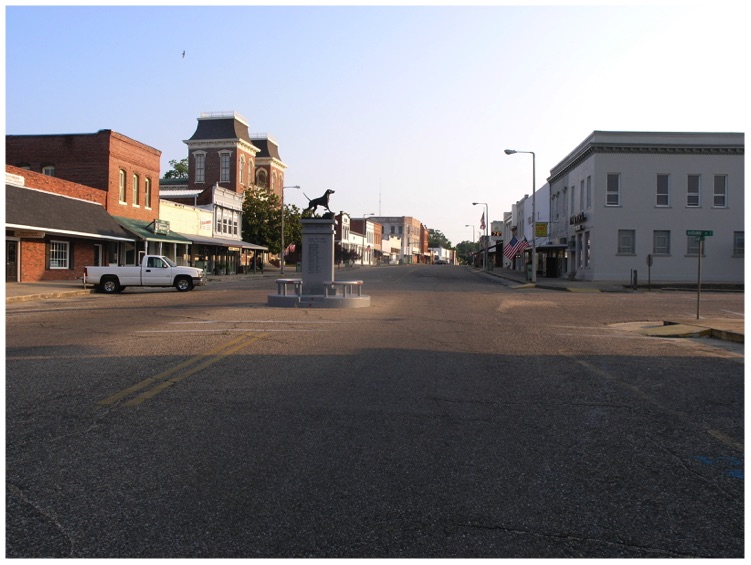 Where History
Ignites our Future
Union Springs Plan for their Future
46 Historic Downtown Buildings are currently on the National Historic Register
including the only 2nd Empire Courthouse in Alabama,
Historic Pauly Jail, 1880 Josephine Hotel,
Carengie Library (1 of 2 left in use),
Red Door Theatre (old Epicapol Church),
Bird Dog Statue....
to name a few of these unique structures.
Historic Downtown Businesses
Comprehensive Plan Update documented in 2013
Plan is attached below with suggested guidlines, itemized projects, goals
set by the CITIZENS of Union Springs.... for our leaders to follow
Print yourself a copy and
NOTE: pay special attention to pages 36 (list our goals) and pages 43 -47 which
LISTS ITEMS FOR OUR CITY TO REACH FOR AND SUGGESTED TIMELINES.
Mayor & City Council updated the Citys Comprehensive plan after extensive review by
Planning Commission and is listed above. This plan complements the previous Downtown Renovation plan conducted
by the City through the Planning Commission /Auburn Design Studio
(fold out detailed maps available at City Hall & Josephine Art Center.)
BOTH OF THESE PLANS FOR THE CITY'S FUTURE WAS DONE THROUGH CITIZEN PARTICIPATION AND CITY FUNDS!
Historical Buildings, Homes, Bird Dog, Field Trials/Hunting, Red Door Theatre, Historic Pauly Jail, 2nd Empire Courthouse, etc
City Government, Utilities, Banks, Medical Facilities, Schools, Churches, Recreation, Media, Misc Resources, etc
Stores, Restaurants, Events, local links to Tourism, Chamber, Historical Society, etc..
City Hall 334 738 2121
Mayor --- Roderick Clark
Council Members
Eugene Faulk
LaTesha Howard
Louis Murray
Louis E Pugh
Faye Mason Thorpe
City Clerk
Terronda Hooks
City Attorney Ashley Mallory